Ambassadors are a special group of volunteers who perform a vital public relations function for the Anderson County Chamber of Commerce. Their primary role is to establish friendly, professional relationships with Chamber members. Each Ambassador adopts a select list of members they contact periodically to obtain feedback on Chamber membership and offer their support. They also serve as volunteers for all Chamber events.
This program is also designed to offer the Ambassadors special recognition and an opportunity to showcase the business they represent.  This is an invitation only program and is viewed as an honorary position. Volunteer efforts are rewarded in several different ways, from prizes to extra-curricular events.  For more information about the Chamber or the Ambassador Program, contact the Chamber at 865-457-2559.
Diane Allred, Owner of Allred and Associates Realty
Diane has been in real estate for over 16 years. A graduate from Tennessee Wesleyan with a B.S. degree in Business, Diane has always been interested in real estate. She is a real estate broker, owner of Allred and Associates Real Estate, and a GRI graduate. Diane is  a member of the Knoxville Multiple Listing Service, giving clients the ability to list their property through realtor.com.  Sellers are provided with hundreds of agents to view their property with prospective clients looking for a property that suits their needs.  As a buyer, Diane can help find not just a house but a home.
Diane also provides property management services, giving landlords the ability to have someone else oversee their property. Getting the right renter and overseeing repairs gives landlords flexibility and peace of mind.
Diane is married to Carl (Mickey) Allred and the mother of Jennifer, Carla, Amy, Erin, Jessica, and Leslie.
Looking to list your home, purchase a new home, a landlord wanting to rent their property or a renter trying to find a home, give Allred and Associates Real Estate a call at 865-457-7730. Located at 320 Commerce St., Clinton.
Jessica Diveto, owner of PromoJoe by Jessica
Jessica Diveto's background is in Advertising and Sales for over 10 years.  Her ability to identify and create exactly what a customer is looking for, without the customer really knowing it, gives her a unique ability that is difficult to find.  She will treat you and your business with the highest level of respect and attention, no matter if you are a small local shop, or a global corporate company.  It does not matter if you just opened your doors or have been in business for 30 years, Jessica is there to help.  Running a business can be overwhelming and Jessica will be sure to ease your pain so you can get back to building your business!
       Jessica has lived and worked in Knoxville and the surrounding areas for over 10 years. She enjoys helping the local community grow and spending time with family and friends.  Jessica and her husband Kevin currently reside in Clinton, TN with their two girls Gracie and Rosie.
     Promo Joe by Jessica is a locally owned family business with a large corporate reach.  We service everyone from local businesses to international corporations. We can accommodate any size and need your business requires. With our buying power, we can negotiate the best deals while not compromising the quality required for our customers' marketing needs.  Founded by Jessica Diveto, Promo Joe by Jessica was created to offer a "Full-Scale" branding operation for customers with the principle that being treated like "family" should never be compromised!  Superior customer service is our top priority. We deliver the highest quality products and services while saving time and money for our customers.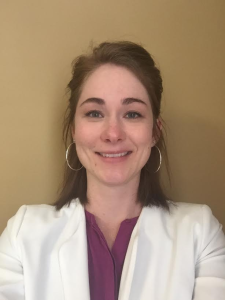 Chelsea Dotson, Bristol Park Apartments
Chelsea has worked for Nickel Plate Properties, owner of Bristol Park Apartments in Oak Ridge TN, since November 2, 2015.  She has a Bachelor degree in Liberal Arts and has an Associate degree in Business Administrative.  She loves to be able to help prospects find their perfect home, even if it is for a short while.  She makes sure to ask the appropriate questions to house her prospects in the perfect homes.  Before Property Management, she worked at Regions Bank for 2 years and retail for 4 years.  She is excited to become an Ambassador for Anderson County, so that she can connect businesses with each other and residents of Anderson and surrounding counties.  She is also excited to connect people that are new to the Anderson Chamber and other Chamber programs that don't know anyone and needs to meet someone new.
Pam Forgety, Meadowview Assisted Living
Pam Forgety is a 30 year resident of Anderson County and the only Director for Meadow View Senior Living which opened its doors in November of 2009.  Meadow View is a 45 apartment assisted living community located conveniently between Clinton, Norris and Andersonville.  Pam is happily married to Joe Forgety of Anderson County Schools and is a proud mom and grandmother.  Pam is an active church member and supports multiple community organizations.  She enjoys cooking and entertaining in her spare time.
Jane Haney, Major Account Manager, Thermocopy
Jane Haney is the Major Account Manager of Thermocopy of Tennessee, Inc., the largest business technology provider in East Tennessee.  She has been with Thermocopy for the past 33 years and has served several terms as a Chamber Ambassador.  Originally from Athens, Tennessee, Jane moved to the Knoxville area and began a banking career that led her to meet Randall Sumner, originator of Thermocopy in 1964.  Today, Jane works closely with the Leadership Team at Thermocopy and the President Steve Sumner, who is a past Board of Director. Through her continued production and revenue numbers along with her retention of customer base, she has met the criteria for many years to make Thermocopy's Presidents Club.
Her hobbies include spending time with her dog, Elvis, and her extended family of great nieces and nephew.  Travel is her main objective beyond meeting her customers' needs.  She is always volunteering to assist in any and all chamber programs and activities when time allows.
April Lively, LulaRoe April Lively 
Co-Chair Jeanne Mitchell, Temp Systems Inc./TSI Industrial
Jeanne Mitchell, Business Development Manager for Temp Systems, Inc/TSI Industrial
Inc. has worked there for over 20 years. She has been an Ambassador for over nine years and is currently serving her sixth year as Ambassador Co-Chair for the group. In 2011, she was chosen by the past President of the Chamber to chair the 2nd annual Today's Woman Expo.  In 2012, the first Tribute to Business, she won the prestigious R.C. Dudley Hoskins Award for her volunteerism. She is not only involved as an Ambassador, but also gives her time as a member on the Board of Directors of Anderson County Chamber serving  her third year on a three year term.
Kell
y Rice, TNBank Mortgages 
Kelly Rice is a resident of Clinton, TN and has called Anderson County home for the last 40 years.  She is a Mortgage Loan Specialist at TNBANK Mortgage in Oak Ridge TN.  Prior to her employment with TNBANK, she worked in the housing rental market for the past 17 years in Clinton TN.  She is married to her husband Shane, and has three children Emilee, Jordan, and Isabella along with her dog Mattie Mae. She loves spending time with her family and friends and being involved with her church. Her hobbies include spending time outdoors, singing, and enjoying the company of others. Small communities and the love of helping people make her happy. "My motivation is to make today better than yesterday and to learn at least one new thing daily. I pride myself in my customer service skills. I always strive to be the best and give the best service to all that I have the pleasure of working with."
Michael Ousley, Edward Jones Financial Advisor
I have been active in business and civic affairs in Anderson County for many years.  I am an active member of the Anderson County Chamber of Commerce.  With the Chamber, I volunteer as an Ambassador, serve on the Education/Workforce Development Council and Business Development Council and serve on the Board for the Young Professionals of Anderson County.  As an Eagle Scout, I volunteer for the Friends of Scouting annual fundraiser to support local Boy Scout troops.
I grew up in Clinton and attended Oak Ridge High School followed by the University of TN, Knoxville.  I teach investing classes for the ORICL program (Oak Ridge Institute of Continued Learning) at the Roane State Community College campus in Oak Ridge.  I also speak to the students at Oak Ridge, Clinton, and Anderson County High Schools and support their programs dealing with enterprise and personal finance.
Awards and Recognition :
AAMS® Designation: The College for Financial Planning awards the AAMS® designation to individuals who successfully complete a 12-module professional education program, pass a final examination, commit to its code of ethics and agree to pursue continuing education.
2016 Anderson County Leadership Class Graduate
2015 Anderson County Chamber of Commerce R.C. "Dudley" Hoskins Male Volunteer of the Year Award
J.D. POWER APRIL 2015 Edward Jones ranked "Highest in Investor Satisfaction With Full Service Brokerage Firms, in a Tie" in the J.D. Power 2015 Full Service Investor Satisfaction Study
2014 Best Financial Planner – Courier News Reader Poll
Elizabeth Powers, Mortgage Options Lending
Elizabeth Powers has been with Mortgage Options Lending since 2011 and been in the Mortgage/Real Estate Industry since 1998. She is a Licensed Mortgage Professional specializing in Purchase & Refinance Residential Mortgages. She enjoys building relationships with Professionals within the local Community, contributing a lot of her success to her involvement in the Chamber. She has been an Anderson County Chamber Ambassador for several years and was the Recipient of the "2010 Ambassador Extraordinaire Award". She also serves on the Retire TN/ Move to Anderson County Advisory Committee.
Elizabeth is a native Anderson County Resident and currently lives in Hardin Valley with her husband Duwayne and her two sons DJ & Marques. Her daughter Gabrielle is away at school where she is attending Marshall University.
Co- Chair Debbie Sellers, Mary Kay 
Mom, Grandma, Lola & Aunt, Allie Grace's (fur baby) mom, Mary Kay Sales Director and Volunteer- 50+ year Anderson County resident addicted to Facebook. My passion and mission is to help women feel good about themselves, through a new "look" or beginning a new career in investing in changing lives of the women God places in your life with makeup.
Living my first 30 years fearful of everything, my favorite quote is "feel the fear and do it anyway". Best words of wisdom from my mom-"if everyone is telling you the same thing, everyone isn't wrong". Most embarrassing moment….maybe when my dirty undies fell out of the back of the SUV onto a four lane in Arkansas and the highway patrol stopped traffic to help me pick it up….you can read it on Facebook!! Best decision I ever made was to attend BSF- LIFE CHANGING Bible Study! BSFinternational.org Second best decision was to enter into the world of Mary Kay 31+ years ago…again LIFE CHANGING. All I wanted was to make an extra $50 a month. Mission accomplished!
I love happy, strive to live in my pink bubble- will run from negativity. When I leave this beautiful earth I hope when people remember me they smile.
Mark Wilson, Platinum Financial Funding
Mark has been a resident of Clinton for 33 years, a graduate of Anderson County High School, and has been a member of The Anderson County Chamber for the last 5 years.  He has over 14-year experience in the Real Estate and Financial/Mortgage industry. Prior to joining the team at Platinum Financial Funding LLC., Mark worked as the Vice President and Mortgage Lending Manager and also as a Business Development Manager. Mark's industry experience includes:  loan originating, underwriting, servicing and customer service which brings an invaluable amount of knowledge to the Platinum Team. Mark stresses the importance of taking excellent care of the customer and believes that the team's motto of "putting the customer first to build relationships that last," is the only way to do business.
Keith Young, Thermocopy of Tennessee
Keith Young has been an Account Executive with Thermocopy, East Tennessee's largest and most experienced Business Technology provider, since 2015. In addition to the sale and service of office technology machines since 1964, Thermocopy also helps numerous business's both small and large with document management software and Managed IT services. Prior to Thermocopy, Keith spent 18 years owning a small retail business in Knoxville allowing him a unique perspective on how technology can make business's more efficient and profitable. Originally from Oak Ridge, Keith now is happily married with 2 children and resides in Knoxville.
Not Pictured:
Tammy Gross, Paschal Solutions, Inc.
Tim Hardin, Reliant Investigations
Marge Hauschildt, Pleasantries Cakes & Catering
Billie Howard, Y-12 Federal Credit Union
Amanda Humphrey, University of Tennessee
Connie Hunley, A2Z Nannies
Larry Lemanski, Liberty Tax
Ginger Tucker, The Lantern at Morning Pointe
Kim Webber, The Courier News